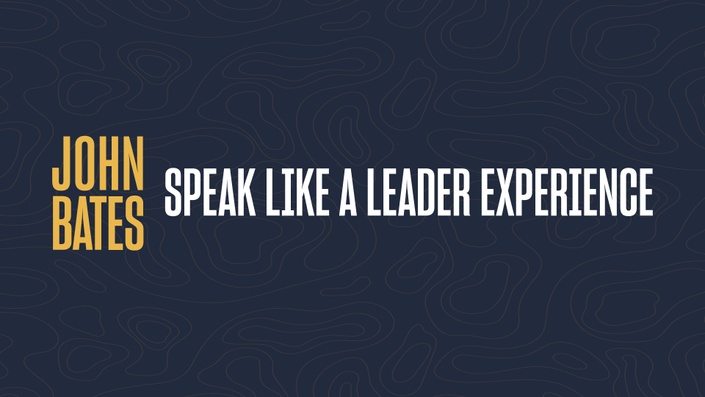 Speak Like a Leader Experience - Begins March 1st, 2023
Have Your Audience Hanging on Every Word. Generate Trust, Loyalty, Connection and Be the Leader Others Respect and Want to Follow
Enroll in Course
"If you're ready to take your life and business to higher levels and sustain continuous growth and improvement, then you must work with John!
- " James Malinchak, Featured on ABC's Hit TV Show, Secret Millionaire
Who Benefits From the SPEAK LIKE A LEADER Experience?
Get TED-level ready in 10 weeks.

Personal coaching on your presentation, public speaking, and communication from John Bates in this small group coaching experience.



Company story
Keynote presentation
Sales pitch

Investor pitch
TedTalk
Employee review discussion

Team meeting introduction
Job interview
Promotion or salary increase discussion
You know it's crucial to connect with your audience so they're ready to take action the minute you're finished. And you want personal feedback to help you get there.
March 1st, 2023
Walk Confidently on Stage in 10 Weeks
with personal coaching from John Bates
Your 10 LIVE Sessions Start March 1st, 2023
March 1st, 2023
10 a.m. - 11 a.m. MST


Training Day #1
Why Your Origin Story Matters

March 8th, 2023
10 a.m. - 11 a.m. MST
Training Day #2
Storytelling that Matters

March 15th, 2023
10 a.m. - 11 a.m. MST
Training Day #3
How to Connect with Your Audience

March 22nd, 2023
10 a.m. - 11 a.m. MST
Training Day #4
Using Neurobiology in Your Communication

April 5th, 2023
10 a.m. - 11 a.m. MST
Training Day #5
Openings and Closings

April 12th, 2023
10 a.m. - 11 a.m. MST
Training Day #6
I vs You

April 19th, 2023
10 a.m. - 11 a.m. MST
Training Day #7
Unwavering Stage Presence

April 26th, 2023
10 a.m. - 11 a.m. MST
Training Day #8
How to Land Your Message

May 3rd, 2023
10 a.m. - 11 a.m. MST
Training Day #9
How to Use Feedback and How to Practice
FINAL SESSION

May 10th, 2023
Note the longer time for this final meeting -> 10 a.m. - noon MST
Your LIVE TED-Like presentation
In this session, you practice your presentation before a LIVE audience on Zoom and receive personal feedback from John and your cohorts.

"John, I can't thank you enough for working with us here at NASA. You were so engaging and gave my team great tools and inspiration to take our communications to the next level. "
- ASHLEY EDWARDS, NASA Headquarters, Communications Manager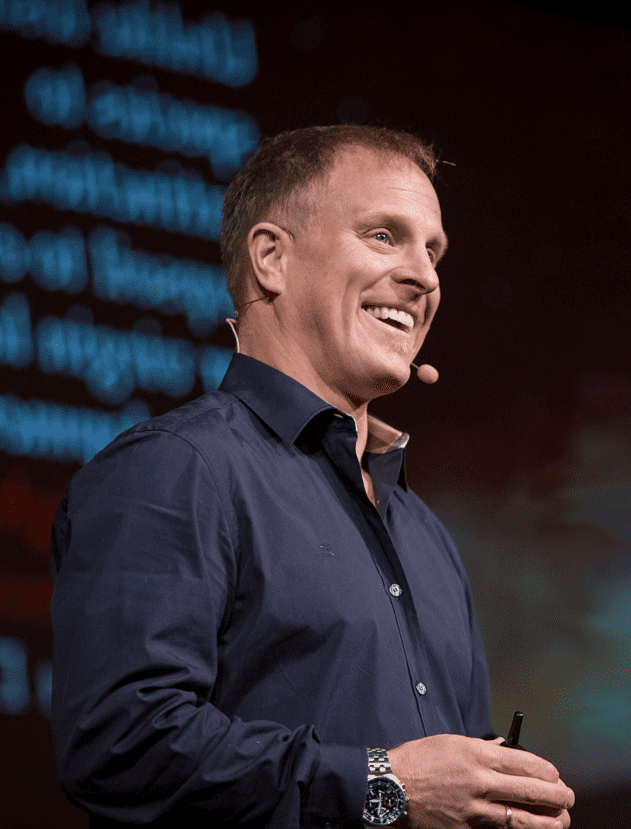 Create an Impact Worthy of Your Message
Many speakers land flat because they miss the human connection. Or worse, they sound the same as every other speaker.
Remember a speaker that made a life-long impact on you? Yes, the message was amazing, but it wasn't just the message. It was the person and the way they connected with you.
You have an amazing story. And I want to help you tell it in a way that leaves a lasting impact on every person who hears you.


"Tears flowed as we listened to the closing story of the day, given by a young professional who after years of working with another speaker training group FOUND her voice and moved the room full of colleagues to tears and applause. She connected with every person in the room through the powerful telling of her story. This is what John helps people to do: Find their voice. Tell their story. Tell any story. Truly connect."
- Sharon Arnold, Cal Poly State University
Get Personal Feedback from John Bates in this
SPEAK LIKE A LEADER Experience Today
**ONLY 8 SEATS LEFT**
Your Instructor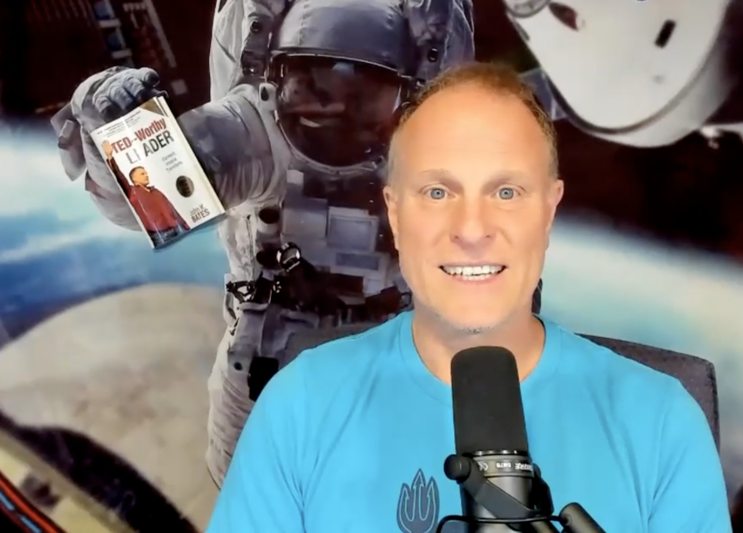 I feel the speaker struggle, my friend!
Have you ever seen someone on a leadership path who had brilliant ideas, great insights, tremendous knowledge and understanding but who could not communicate them effectively to others?
That was me. I was THAT leader.
As a matter of fact, I wrote an article in Inc. about it.
From that #tedfail, I learned where I went horribly wrong. And thankfully, I learned how to get it right.
I was not only asked to come back to Ted for a successful presentation, but over the last decade, I've been one of the mostly highly sought-after Ted-format coaches in the world.
"It was a tremendous pleasure to work with John Bates on my TED Talk. The other week an LAPD officer came up to me, shook my hand and said: 'I like your movies, but I loved your TED Talk more.' " - Dolph Lundgren, Actor, Human Trafficking Activist
I even wrote a book about it. Your Amazing Itty Bitty Guide to being TED-Worthy.
And now I've created an online course where I believe you can take your compelling facts, figures, and ideas and turn them into a presentation that moves your audience to action.
Whether you're preparing for a presentation in the next few days, or you're looking for a way to connect better with people you lead, SPEAK LIKE A LEADER bootcamp is for you.
If you're willing to be coachable and commit yourself to just 4 hours of online learning, I promise you can craft a presentation that
immediately grabs the attention of your audience,
has them seeing themselves as heroes in the story you're telling,
and motivates them to take the next step to get the results you're sharing.
"I attended training with John 1 week before our company's final pitch presentation for a large grant. John's insights and feedback helped us to reshape our pitch as well as give me the confidence to deliver it. His advice indeed convinced the grant committee that we were in it for the long haul."
"John's teaching is life-changing! Even years after training with John, our clients reference take-aways from their work with him."
- Dr. Sabrina Starling, PhD, PCC, BCC, The Business Psychologist, Best Selling Author, How to Hire the Best, Founder, Tap the Potential Business Coaching
"John doesn't teach "soft skills", John teaches human skills and everyone is a better human after working with him. If you know you could level up your presence, communication, or self-awareness - John is your guy. Without a doubt."
- Imari Tuakli
"Still love the 'power tools' training John gave at Second Genome when we were preparing for external presentations. I hear his voice whenever I'm preparing a talk."
- Todd Desantis, Co-founder of Second Genome, Inc.
"From the perspective of a conference director who has managed more than 10,000 speakers – John Bates is in my Top Ten Favorites. The feedback from his attendees is not just uniformly positive, but uniformly 5 stars."
- Peggy Kilburn, Director, WITI Summit & Hall of Fame
Take the Stage With Confidence
With SPEAK LIKE A LEADER experience, you'll walk away with -
A story your audience will always remember
An emotional connection to the logical choice you're offering
An ending that moves your audience to action
But above all, after implementing the SPEAK LIKE A LEADER experience, you'll confidently walk on stage and deliver the TED-worthy performance of your dreams.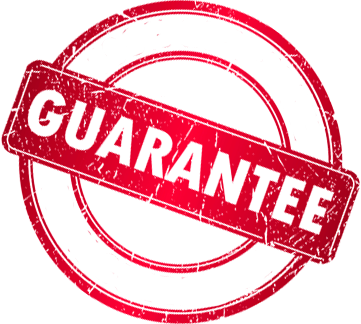 OUR SPEAK LIKE A LEADER GUARANTEE
After decades of coaching speakers, we're so confident that you'll have a TED-worthy presentation by the end of this Experience, we have a 30-day money-back guarantee.
Here's the only stipulation.
You have to participate/watch each of the coaching sessions, and you have do the work.
If, after 30-days, you've attended the coaching and completed all the assessments and exercises, and you STILL feel like you're not ready to confidently walk on stage and move people to action, we'll renegotiate the price to the value you feel like you received.
Course Curriculum
Unit 2 Be TED-worthy
Available in days
days after you enroll
Unit 3 High Leverage Communication
Available in days
days after you enroll
Frequently Asked Questions
How long do I have access to the course?
How does lifetime access sound? After enrolling, you have unlimited access to this course for as long as you like - across any and all devices you own for as long as we're around.
What if I am unhappy with the course?
We would never want you to be unhappy! If you are unsatisfied with your purchase, contact us in the first 30 days and we will give you a full refund.
When does the course start and finish?
The course starts September 21st and ends with your TED-worth presentation to our group on November 30th.
I have a presentation next week? How long will this take?
We'll finish the course in 10 weeks. However, you'll have access to our bootcamp training materials. You can finish the bootcamp content in as little as 4 hours. Doing the work to prepare for your presentation and receiving personal feedback from John will take a little longer. But if you have an upcoming presentation, the bootcamp content is a great way to prepare a presentation that connects and gets results.
What if I don't want personal feedback?
Sounds like our self-paced bootcamp would be the best course for you! Click the link below to register for the bootcamp.
What if I don't want personal feedback?
Sounds like our self-paced bootcamp would be the best course for you! You can register for the bootcamp.
What if I want one-on-one coaching with John?
Hey there! You're not alone. Many executives want to work with John in a one-on-one relationship. There's a link to set up a FREE call with John below.
What if I miss one of the sessions?
No problem! We always record all of our LIVE sessions, so you can catch up if you miss a week. The one week you don't want to miss is our LIVE presentation week. This experience is all about the practice and feedback!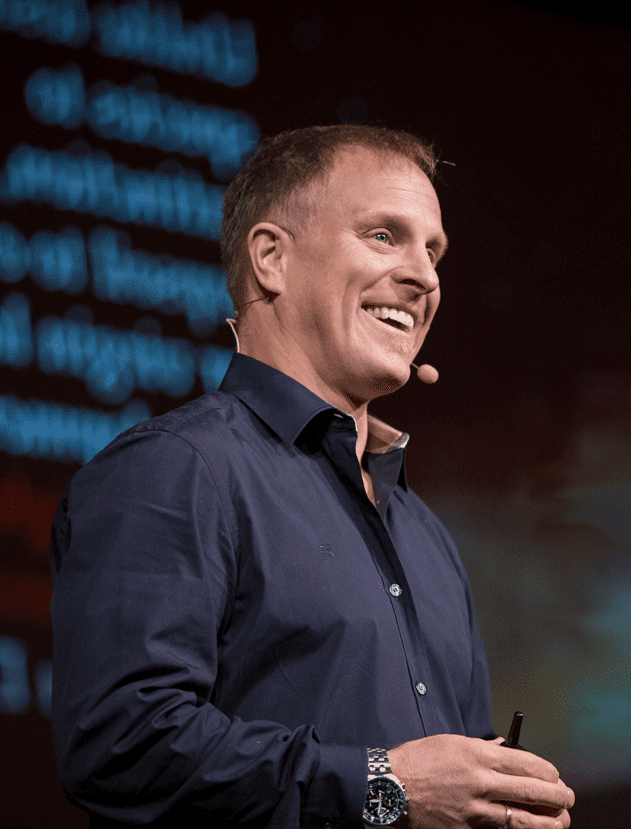 I can't wait for you to join SPEAK LIKE A LEADER Bootcamp
Thinking back to 2010 when I totally, utterly blew my first talk from the TED stage still gives me a stomach ache when I think about it.
However, that experience launched my quest to understand and master the the art of concise speaking.
It has been over a decade since I humiliated myself, and I am now one of the world's most successful and prolific TED Format coaches. I've trained speakers for over 35 TEDx events and leaders at organizations like Johnson & Johnson, Boston Scientific, NASA - including the active astronauts, Navy Special Operations, and many, many more.
Now, I want to share all of my secrets, hard-earned lessons, and insider knowledge with you. I never want you to feel the humiliation I felt. Instead, I want you to walk offstage elated!
This course has transformed the trajectory of many individual speeches and the trajectory of entire lives for hundreds and hundreds of Executives, Leaders, Entrepreneurs, and Change-Makers - just like you - from all over the world.
So whether you're raising money, leading a team or an entire company, or out to start a movement, excellent communication and mastering the TED Format will make you vastly more successful at everything you do.